Aquila
Instantaneous Inline
9.6 kW
Usage:
This thermostatically controlled instantaneous water heater is suitable for hand washing at up to 2 basins, or for a single light shower, or light dish washing. Confirm that the flow rate and temperature performance is adequate for your application using the chart and tables provided.
Features
Technical Specifications
Data Tables
Energy Efficiency
Features
Features
• Supplies hot water to one or two outlets depending on application
• Bare wire heating system gives fast heat up time
• Heats the water instantly as it flows through the unit
• Energy efficient – no standing heat losses
• Energy saving – only uses the power required to deliver the chosen temperature
• External electronic thermostatic control accurate to the nearest degree
• 9.6 kW power rating
• Slimline design
• Heating power adjusted electronically to compensate for temperature, flow rate and water pressure variations
• LED temperature display
• Temperature factory set at 38°C and can be adjusted by the user between 30°C and 60°C
• One programmable memory setting
• After power off/ on the unit will recall the last usage outlet temperature
• Suitable for use with spray head taps with removable M22/ M24 nozzles – tap available separately
• Not suitable for use with taps with thermostatic mixing valves
Technical Specification
Outer Casing
Easy clean high impact ABS
Heating Element
Bare-wire heating system (2 nickel chrome heating elements)
Control Screen (from left to right)
Temperature display (°C).
Actual flow rate display (l/m)
Heating power display (%)
Memory – save selected temperature.
Touch screen arrow keys allow the user to set the required temperature.
Touch screen power on/ off control.
The temperature display will flash if the set temperature cannot be reached.
Flow Dial
Increase/ decrease maximum water flow rate.
Safety
Overheat temperature protection 75°C (manual reset).
Water temperature electronically controlled to maintain user selected temperature between 30°C and 60°C as water pressure conditions vary.
IP Rating
IPX4
Installation
This appliance must be installed in a frost free environment.
The heater should be located as close as is practicable to the hot water outlet to avoid unnecessary heat losses through the pipework.
Plumbing
Must be installed by a suitably qualified person.
Minimum flow rate 2.5 l/m.
Minimum water pressure 1 bar.
Maximum water pressure 7.5 bar.
Water resistivity ≥ 1300 Ωcm.


Water Connection
Inlet/ Outlet 2 x 1/2" BSP male (100mm apart centre to centre).
Fittings required (not supplied): 2 x 15mm compression to 1/2" BSP female adapter.
Suitable for use with pre-heated water e.g. solar heating systems subject to maximum inlet water temperature 60°C.
Electrical Connection
Installation must comply with current IEE regulations.
Single phase, fuse rating guide 42 amps.
The product should be connected to the fixed wiring of the property via suitably rated isolating switch with a contact separation of at least 3mm in all poles.
Approvals
CE, WRAS

Standard Warranty
1 year parts or replacement warranty.
Temperature Rise
Temperature rise from ambient for an instantaneous water heater (TR)
TR = kW rating x 14.3 / flow rate l/m
Application
Recommended temperature for hand washing or shower 38°C.
Recommended temperature for a kitchen sink 50°C.
Rho and Aquila Instantaneous water heaters are intended for use with spray head taps with removable M22/ M24 nozzles. A tap spray nozzle must be fitted in the tap to control the water flow rate and to provide best performance and energy and water efficiency.
Selection Guide
Check the flow rate and water temperature will be adequate for your application using the chart and tables provided.
Take into account that the incoming water supply temperature will be lower in the winter than summer.
Temperature Performance Charts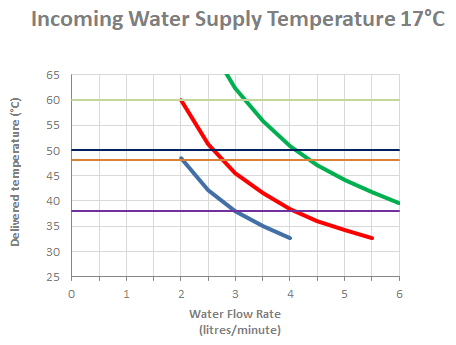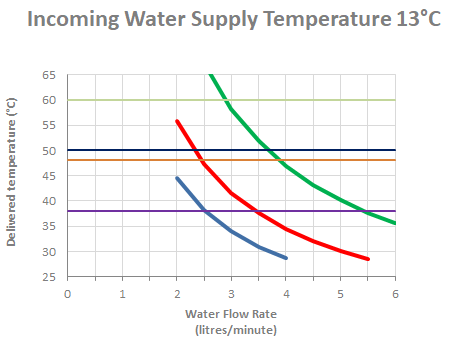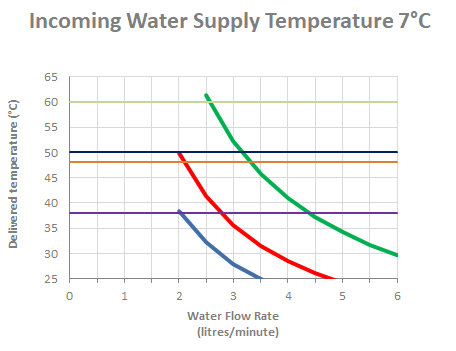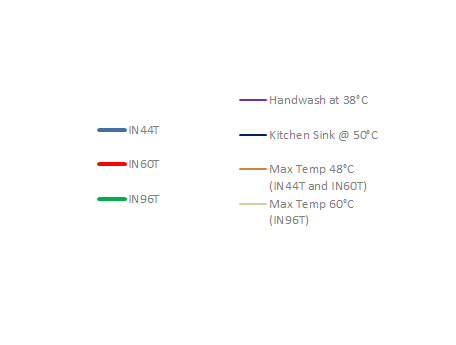 Data Tables
| Product Code | Power (kW) | Thermostatic | Max Flow Rate (l/m)* | Standing Loss (kWh/day) |
| --- | --- | --- | --- | --- |
| IN96T | 9.6 | Yes | Hand wash or Shower 5.2, Dish wash 3.7 | 0.0 |
*Flow rates based on incoming water supply temperature of 13°C, hand wash or shower at 38°C, dish wash at 50°C
| Product Code | Height (mm) | Width (mm) | Depth (mm) | Weight Empty (kg) |
| --- | --- | --- | --- | --- |
| IN96T | 380 | 230 | 90 | 2 |
| Product Code | Power (kW) | Application | Water Flow Rate for best performance (l/m) |
| --- | --- | --- | --- |
| IN44T | 4.4 | Hand washing at a single basin | 2.5 |
| IN60T | 6.0 | Hand washing at a single basin | 2.5 |
| IN96T | 9.6 | Hand washing at up to 2 basins or | 2 per basin |
| | | Light dish washing at a single sink or | 3 per sink |
| | | Light shower | 4 - 4.5 |
| Maximum temperature increase from ambient incoming water supply temperature at a Flow Rate (l/m) of | IN44T | IN60T | IN96T |
| --- | --- | --- | --- |
| 2.5 | 25°C | 34°C | |
| 3.0 | 21°C | 28.5°C | 45°C |
| 4.0 | | | 34°C |
| 5.0 | | | 27°C |
Energy Efficiency
The Energy Related Products (ErP) Directive and Energy Labelling Directive require that from September 2015 all water heaters in scope meet minimum energy performance criteria and have energy labels which provide the energy ration of the product. The classifications range from A++; this being the most efficient and coded in green to a rating of G; this being less efficient and coded in red.
Such ratings provide transparency of efficiency and a comparable benchmark for water heating products, as standardised European Energy Labels are used.
This website contains the energy class for all relevant water heating products. The full energy label and product fiche information for the Aquila can be found below.